A SCHOOL FOR IQBAL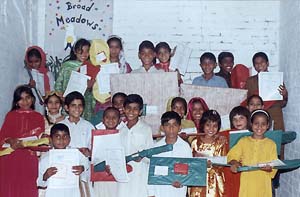 December 1997 Update

Holiday Greetings! We have much to celebrate:
The "School for Iqbal" has just observed its FIRST ANNIVERSARY! (11/96 to 11/97).
When we started this campaign after Iqbal Masih visited our school in December 1994, many people told us we couldn't build a school for poor children in someone else's country. But, you have to believe in yourself sometimes. This time, we proved kids can make a tiny miracle happen.

What is happening at the "School for Iqbal"?
The school is running three sessions daily. Boys and girls attend classes daily with much cooperation and support from local community, government and business leaders. Parents are beginning to see education as an option. Education is the only way to break the cycle of poverty. If children don't go to school, don't get to learn to read, write and compute, then the children will remain powerless and poor. Nothing will change until:
All children are in school

Governments pass and enforce laws to protect children

Corporations allow surprise independent inspections of factories

CONSUMERS ASK WHO MADE THE PRODUCTS THEY ARE BUYING.
The solution to child labor is at least 4 layers deep.
Thanks to the following people for honoring, encouraging or supporting our campaign :
Gloria Steinem, MS. Magazine
U.S. Senator Tom Harkin, (D-Iowa)
Acting Secretary Cynthia Metzler, U.S. Department of Labor
Lively Arts Program, Regis College (Weston, MA)
Minnesota Advocates for Human Rights
Federal Reserve Bank of Boston (Boston, MA)
Current Magazine, London, ENGLAND
Hope Magazine, Maine, USA
People to People International Youth Ambassadors
City Year, Young Heroes
In the Heart of the Beast Puppet Theater, Minneapolis, MN
Easy Speakeasy Magazine, Paris, FRANCE
The American Federation of Teachers, Washington, DC
Voices of Youth, UNICEF
Adults are joining what kids started!
Of course, thanks go to the many, many students in 50 states and 28 countries who ARE the heart and soul of this campaign.
Our biggest thank you goes to the wonderful teachers and administrators at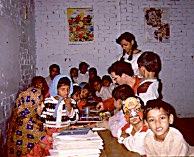 CHAANAN # 3,
better known as "The School for Iqbal." Their love for poor, working children is making Iqbal's school a place where children learn to read and to hope. The teachers are part of SUDHAAR, our Pakistani partners in this campaign. We love you SUDHAAR ! Please look at the photos of the beautiful Pakistani children who attend "A schhol for Iqbal."
Our campaign continues with a brand new activity called "The Kids Online Global March Against Child Labor." We are working with organizations in 5 continents to help organize and lead a 1998 Global March Against Child Labor. The Robert F. Kennedy Memorial Center for Human Rights is one of the groups organizing the U.S. part of the Global March. They invited us to look into joining the Global March. We respect the Robert F. Kennedy Center, so we checked it all out. We liked what we learned about the march. The march will cross Asia, Africa, Europe and the Americas and converge in Geneva, Switzerland in May 1998. A new ILO (International Labor Organization) child labor convention will be written in Geneva in June 1998. A Global March to Geneva will show international labor leaders that they must write stricter laws protecting children.
The marching is aimed at making people around the world notice that people around the world are marching to end child labor. But, what about kids who are too young to march? That's where we come in. We thought and thought about how kids could be involved. We invented the "Kids Online March Against Child Labor." Basically, we want to give kids too young to actually march a chance to still be involved by "marching symbolically online." We hope 3,000 U.S. schools and youth groups will post a message against child labor on the Global March Web Site. Each message symbolizes one mile symbolically marched. We are hoping for 3,000 messages to be posted on the Global March web site which would symbolize 3,000 miles "marched" by kids. That is about the distance across America, roughly. We want to have kids "march" across America online. Our 3,000 young voices will not be ignored and we won't be left out of this global march. If your school is interested in being a part of this kids online march, send us an email message at:
and we will send you details.
Again, thanks for everyone's support! And spread the word...
The School for Iqbal Campaign

---
Material designed and copyrighted by

Mirror Image, Inc. and Broadmeadows Middle School
Questions or problems to report about this web site? Contact the Webmaster at webmaster@mirrorimage.com